Brazil to increase cocoa export
Brazil has increased volume of cocoa delivered to the depots for further export since May 1 to December 13, 2015 by 3%, or about 5 thousand tonnes, compared to the same period of last year. Will the downward correction continue?
Since the start of the year cocoa has gained around 15% in price amid the agricultural brokers forecasts of its global deficit. The deficit may appear for the first time in 3 agricultural seasons. Indeed, ECOM Agrotrade expects the deficit of 183 thousand tonnes in season 2015/16 while JSG Commodities forecasts the deficit of 100 thousand tonnes. Cocoa deliveries to the shipping warehouses in Cote-d'Ivoire fell to 592 thousand tonnes as of December 13 since the start of the season on October 1, down from 605 thousand tonnes last year. In theory, this data shall push the prices up. But in recent days cocoa prices are consolidated in a narrow range and market participants are not in a hurry to buy. Let's consider the scenario of the downward correction.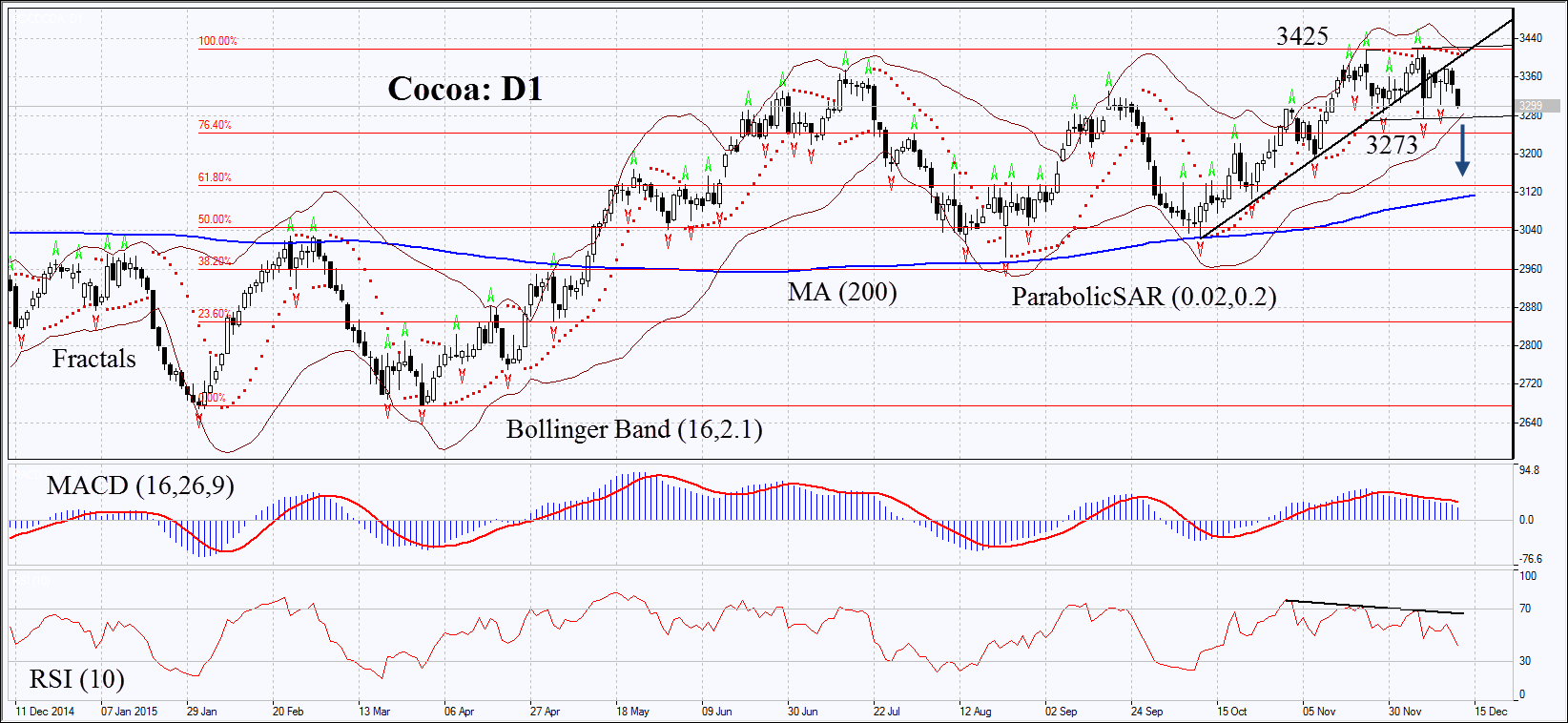 On the daily chart, Cocoa: D1 prices have left the uptrend and are consolidated in quite a narrow range. Parabolic indicator and MACD have formed the sell signals. The Bollinger bands have contracted a lot which may mean lower volatility. RSI has formed the negative divergence and fell below 50. The bearish momentum may develop in case the cocoa prices fall below the correction channel support, three last fractal lows and the Bollinger band at 3273. This level may serve the point of entry. The initial risk limit is possible above the Parabolic signal, two last fractal highs, the Bollinger band and the sideways and 3425. Having opened the pending order we shall move the stop to the next fractal low following the Parabolic and Bollinger signals. Thus, we are changing the probable profit/loss ratio to the breakeven point. The most risk-averse traders may switch to the 4-hour chart after the trade and place there a stop-loss moving it in the direction of the trade. If the price meets the stop-loss level at 3425 without reaching the order at 3273, we recommend cancelling the position: the market sustains internal changes which were not taken into account.
| | |
| --- | --- |
| Position | Sell |
| Sell stop | below 3273 |
| Stop loss | above 3425 |