Weather takes a heavy toll on prices
Cocoa prices have slightly rebounded from the year low. Market participants worry the extremely hot and dry weather in the African Cote d'Ivoire may strongly affect the crops and reduce exports by 200 thousand tonnes. The shaping of the strongest over the last years Harmattan trade wind in Western Africa has been tracked. Will cocoa prices continue edging up?
Cote d'Ivoire accounts for around 35% of global cocoa production and ranks 1st by this measure. Second is the neighboring Ghana which produces 24% of global cocoa output and, in theory, may suffer the same from the drought and Harmattan wind. This agricultural year Cote d'Ivoire imported 1,063 mln. cocoa tonnes from October 1 to January 31 which is 3% less than in the same period last year (1,093 mln. tonnes). The daily cocoa prices increased in New York by 4% on Monday which was they record-high growth in 3.5 years. Meanwhile, in January the prices showed the record in 4 years 14%-a-month fall. According to the U.S. Commodity Futures Trading Commission data, the net long position in cocoa was formed in US exchanges.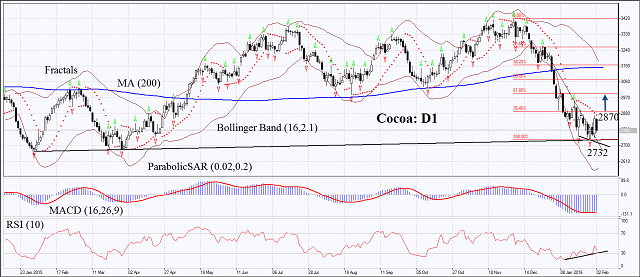 On the daily chart Cocoa: D1 has verged the year low, failed to break through it and began correcting upwards. The MACD indicator gives buy signal while Parabolic has not reversed and still gives sell signal. The RSI indicator is edging up and has formed the positive divergence. It is being above 50. The Bollinger bnads have widened a lot which means high volatility. The bullish momentum may develop in case cocoa surtpasses the Monday high and the upper Parabolic signal at 2873. This level may serve the point of entry. The initial risk-limit may be placed below the last fractal low at 2732. Having opened the pending order we shall move the stop to the next fractal low following the Parabolic and Bollinger signals. Thus, we are changing the probable profit/loss ratio to the breakeven point. The most risk-averse traders may switch to the 4-hour chart after the trade and place there a stop-loss moving it in the direction of the trade. If the price meets the stop-loss level at 2732 without reaching the order at 2873, we recommend cancelling the position: the market sustains internal changes which were not taken into account.
| | |
| --- | --- |
| Position | Buy |
| Buy stop | above 2873 |
| Stop loss | below 2732 |