Drought in Columbia
Brazil has cut its coffee export in January 2016 by 8.8% compared to the January last year and by 16.5% compared to last December. Market participants worry the crops in Columbia may suffer due to the droughts. Will this push the coffee prices up?
Three weeks ago coffee hit a fresh 2-year low and now its prices are struggling for growth. According to the U.S. Commodity Futures Trading Commission. It has been contracting for two weeks having reached the 4-week low. This week many coffee producers are on holidays due to the carnival in Brazil and the Lunar New Year in Vietnam. Some market participants believe the prices fell on Friday and Monday due to the pre-festive sales. Their further dynamics will depend on the weather in Latin America and Vietnam which are the main regions of coffee production. This January Columbia increased its production by 4% compared to the same period of 2015, and by 16% to 14.2mln 60kg bags since February 2015 to January 2016. These data are already priced in. The drought and the probable revision down of the crops outlook may push prices up. According to the polls, the majority of the markets participants expect the 3mln bags deficit of coffee in the global markets in 2015/16 season which is to last till this September. If the forecast comes true, it will be the first deficit since 2009/10 when the prices rose almost threefold.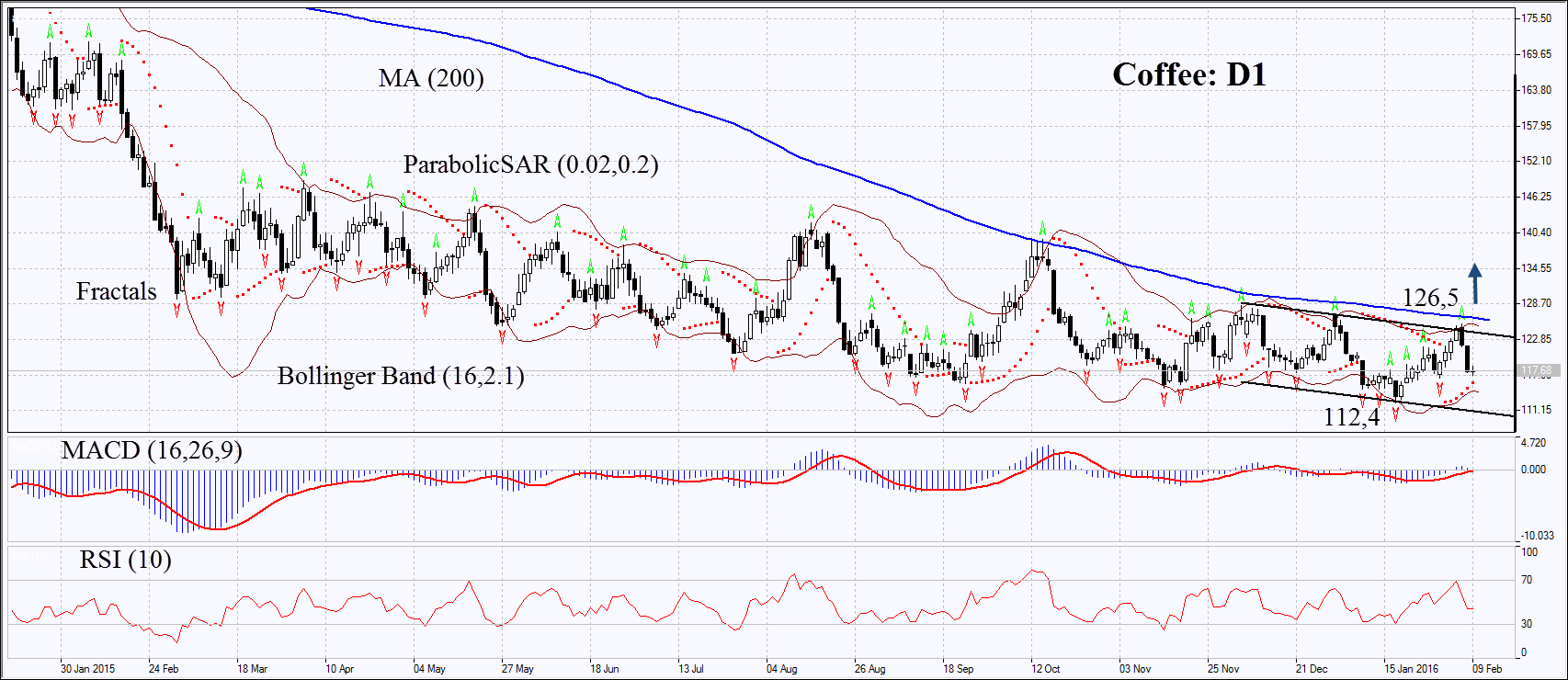 On the daily chart Coffee: D1 is in downtrend but is struggling for growth from the resistance of the channel. The MACD and Parabolic indicator give buy signals. The RSI is neutral and below 50, no divergence. The Bollinger bands have contracted which means lower volatility. The bullish momentum may develop in case coffee surpasses the last fractal high, the Bollinger band and the 200-day moving average at 126.5. This level may serve the point of entry. The initial risk-limit may be placed below the Parabolic signal, Bollinger band and the second fractal low which is the 2-year low at 112.4. Having opened the pending order we shall move the stop to the next fractal low following the Parabolic and Bollinger signals. Thus, we are changing the probable profit/loss ratio to the breakeven point. The most risk-averse traders may switch to the 4-hour chart after the trade and place there a stop-loss moving it in the direction of the trade. If the price meets the stop-loss level at 112.4 without reaching the order at 126.5, we recommend cancelling the position: the market sustains internal changes which were not taken into account.
| | |
| --- | --- |
| Position | Buy |
| Buy stop | above 126.5 |
| Stop loss | below 112.4 |