Brazilian Espirito Santo state suffers from heavy drought which may cause reduced national coffee crops in 2016/17. The American and European consumers have started competing for coffee from Vietnam, which is 2nd world major coffee producer after Brazil. Will the coffee prices continue heading north?
Markets do not estimate yet to which extent the Brazil's crops in 2016/17 season may fall. Previously, they expected the fall of 48mln tonnes which is in line with the 2014/15 season reading. The coffee export from Vietnam fell 19.2% in season 2014/15 to around 25mln 60kg bags, according to International Coffee Organisation. In January-November this year the Vietnamese export reached $2.33bn having lost 29.3% from the same period of 2014. The farmers are not in a hurry to sell out the coffee stockpiles considering the current prices to be understated.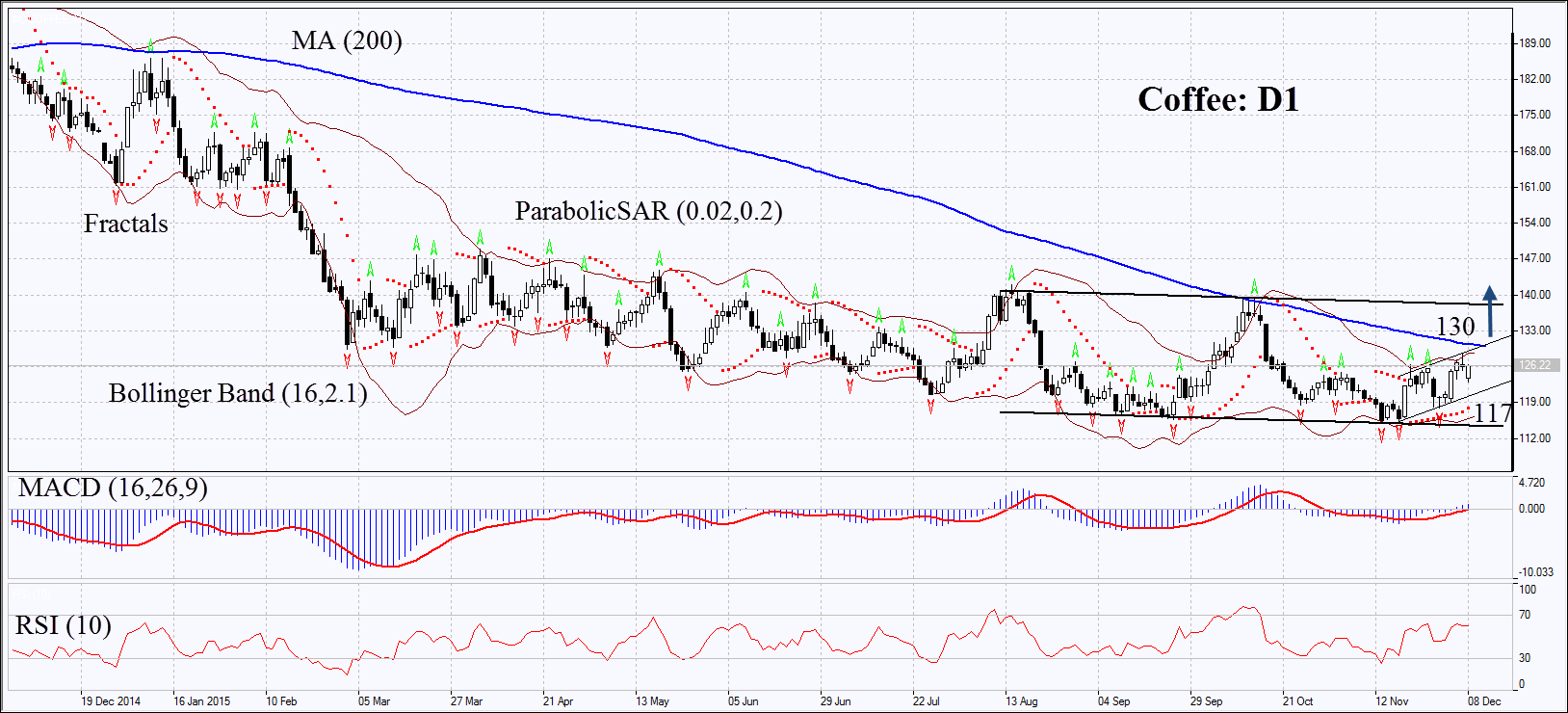 On the daily chart Coffee: D1 moves sideways for almost a year. Last month it hit a fresh yearly low and is struggling for growth. The Parabolic indicator and MACD have formed the buy signals. The Bollinger bands have contracted which may mean lower volatility. RSI is neutral, no divergence. The bullish momentum may develop in case coffee prices surpass the last fractal high, the Bollinger band and the 200-day moving average at 130. This level may serve the point of entry. The initial risk-limit may be placed below the Parabolic signal and the last fractal low at 117. Having opened the pending order we shall move the stop to the next fractal low following the Parabolic and Bollinger signals every 4 hours. Thus, we are changing the probable profit/loss ratio to the breakeven point. The most risk-averse traders may switch to the 4-hour chart after the trade and place there a stop-loss moving it in the direction of the trade. If the price meets the stop-loss level at 117 without reaching the order at 130, we recommend cancelling the position: the market sustains internal changes which were not taken into account.
| | |
| --- | --- |
| Position | Buy |
| Buy stop | above 130 |
| Stop loss | below 117 |