China increases copper import
Copper prices rose significantly on Tuesday on positive data from China. The copper import in 2015 has hit a fresh all-time high of 3.68bn. which is 2.5% above the volume of 2014. Will the copper prices continue rising?
The demand for copper increased despite the slowdown of the Chinese economy year over year. The Chinese GDP added 6.8% in Q4 2015. The lower reading was only during the economic crises in Q1 2009 (+6.2%) and in Q4 1999 (+6.7%). China consumes 45% of the global copper production. Last year Copper prices fell 28% last year and another 14% in 2014 which is far above the fall in prices in course of the recent world crisis. From December 2007 to June 2009 copper lost 24%. Amid higher imports of the metal to China, the upward correction from the 7-year low hit 2 weeks ago may continue. In December 2015 the Chinese import increased 34.4% to 406.94 thousand tonnes compared to the same period of 2014. Since November 2015 in increased 18%. The next significant macroeconomic data will come out in China on February 1 – the manufacturing PMI and the Forex reserves for January.
Another driver of copper prices may be the Indonesia's decision to oblige the US Freeport McMoRan to deposit $530 mln to secure further quotes on copper concentrate production. The funds shall guarantee the construction of the new copper smelting plant. Indonesia benefits more from the export of smelted copper than of the copper concentrate. Previous quotes terminate this Thursday. Freeport McMoRan made a preliminary agreement last July under which it will deposit only $80 mln. The negotiations on this matter may limit copper and its concentrate export from Indonesia.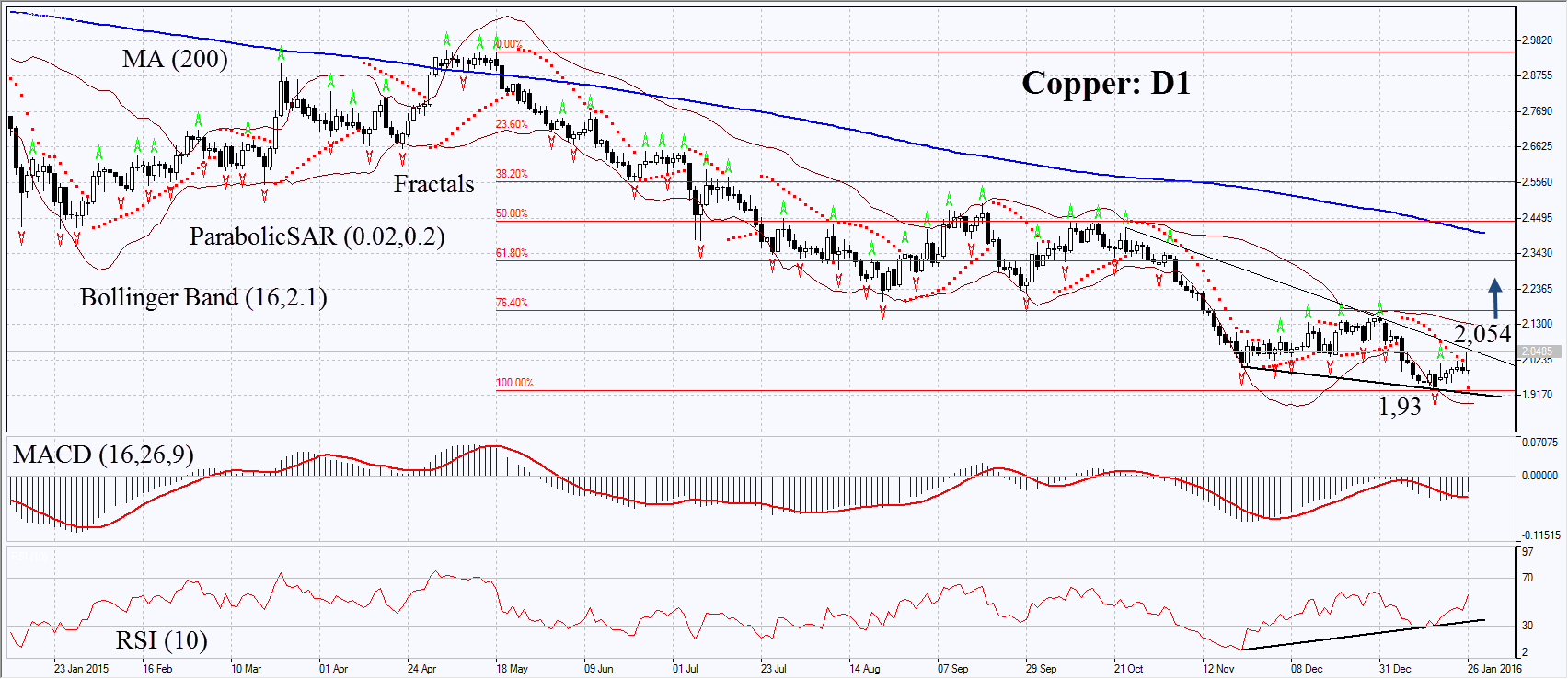 On the daily chart Copper: D1 is correcting upwards within the downtrend. It has recently hit a fresh 7-year low. Now Parabolic indicator and MACD give buy signals. RSI has formed the positive divergence and is above 50. The Bollinger bands have widened a lot which means higher volatility. The bullish momentum may develop in case copper surpasses the resistance of the downtrend at 2.054. This level may serve the point of entry. The initial risk-limit may be placed below the 7-year low, the Parabolic signal and the last fractal low at 1.93. Having opened the pending order we shall move the stop to the next fractal low following the Bollinger and Parabolic signals. Thus, we are changing the probable profit/loss ratio to the breakeven point. The most risk-averse traders may switch to the 4-hour chart after the trade and place there a stop-loss moving it in the direction of the trade. If the price meets the stop-loss level at 1.93 without reaching the order at 2.054, we recommend cancelling the position: the market sustains internal changes which were not taken into account.
| | |
| --- | --- |
| Position | Buy |
| Buy stop | above 2.054 |
| Stop loss | below 1.93 |