Number of cattle heads is falling in Australia
Two major Australian beef producers, Teys and JBS SA, reported they are cutting the working hours of their factories and staff. For three years they have been working round the clock. Now the number of cattle heads is falling in Australia. Will the beef prices edge up?
For the recent three years 30mln cattle heads have been slaughtered in Australia and the livestock has fallen to the 20-year lows, according to the Meat and Livestock Australia Association. Farmers are not in a hurry to increase the livestock for fear of drought. For this reason Australian officials have reduced the beef export to 1.19mln tonnes in this season compared to their summer estimate of 1.225mln tonnes. The number is far above the last year's level of 1.35mln tonnes. Australia ranks 3rd in beef production after India and the US. By the way, the Mumbai court, state Maharashtra, resolved that the prohibition of beef slaughter in course of Muslim holidays does not infringe religious rights. Previously, in some states of India a ban to consume and slaughter cattle was introduced so the cows were transported to the states with no such a ban. Now market participants are concerned that the tougher rules may hinder beef exports from India. In our opinion, these two factors have caused the prices correction from the recently hit fresh 3-year low. The price growth may continue if the monthly USDA report proves to be strong.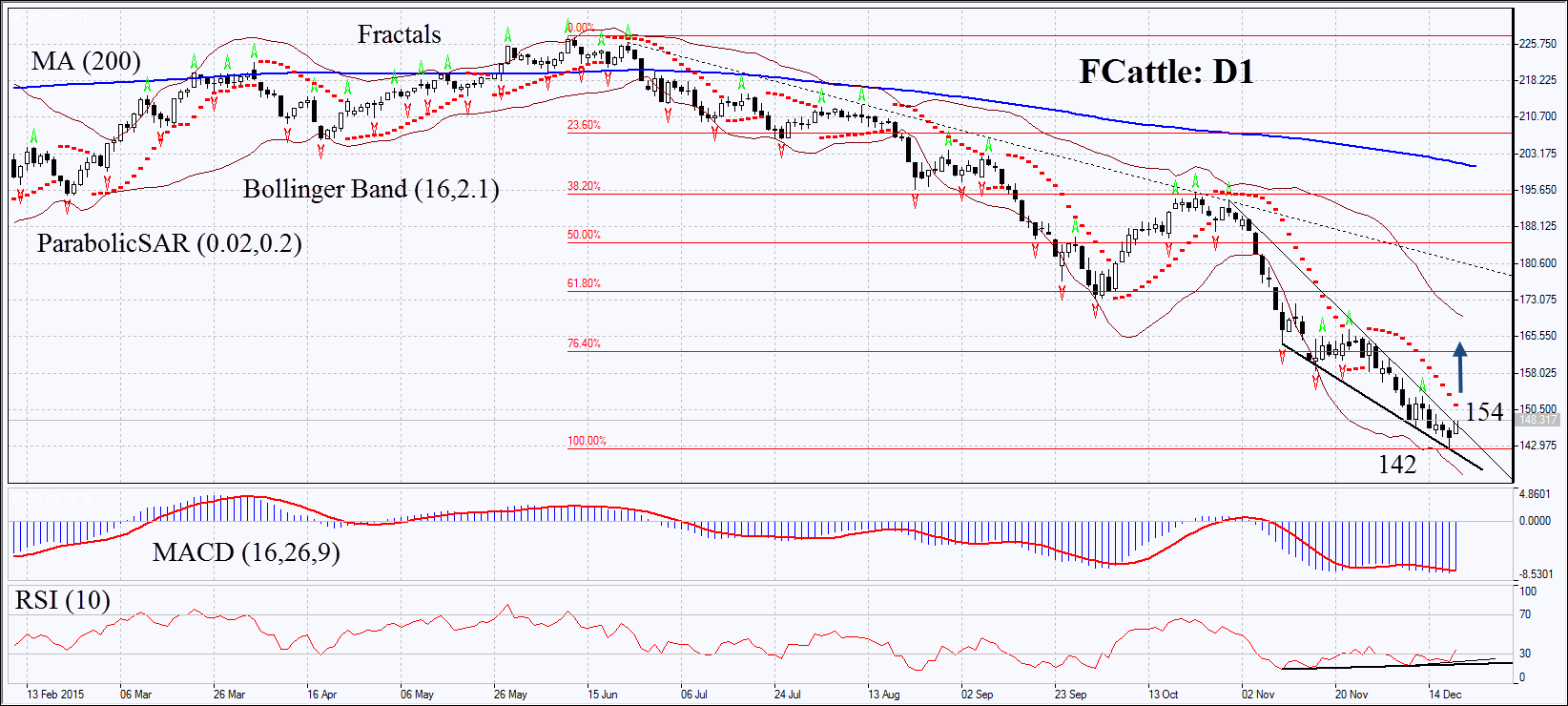 On the daily chart Fcattle: D1 is rising having rebounded from its 3-year low. The Parabolic indicator has formed the sell signal while MACD gives the buy signal. The Bollinger bands have widened a lot which may mean high volatility. RSI has formed the positive divergence. The bullish momentum may develop in case beef prices surpass the last fractal high at 154. This leve3l may serve the point of entry. The initial risk-limit may be placed below the 3-year low at 142. Having opened the pending order we shall move the stop to the next fractal low following the Parabolic and Bollinger signals. Thus, we are changing the probable profit/loss ratio to the breakeven point. The most risk-averse traders may switch to the 4-hour chart after the trade and place there a stop-loss moving it in the direction of the trade. If the price meets the stop-loss level at 142 without reaching the order at 154, we recommend cancelling the position: the market sustains internal changes which were not taken into account.
| | |
| --- | --- |
| Position | Buy |
| Buy stop | above 154 |
| Stop loss | below 142 |