Reduced cattle numbers stopped falling prices
The October placements of cattle in US feedlots is 4% down compared to the last year's level being the lowest since 1996, the year when the statistics was officially released first. At the same time, the beef prices slumped last week to the 2-year low. Will the beef prices rebound?
The US Department of Agriculture informed in its monthly Cattle on feed report that October placements in feedlots fell to 2.28mln head. The number of cattle heads sold to the packing companies and shops declined 3% in October compared to the last year, which is, nevertheless, slightly above the expectations of the market. The overall cattle on feed number for sale totaled 10.8mln in the US on November 1, 2015 which is 2% above the level of the same date last year. This may have been the reason for market prices to stay almost unchanged. Nevertheless, they stopped falling. At the moment, the trade volume is reduced due to the Thanksgiving Day in the US. The US stock exchanges will be closed.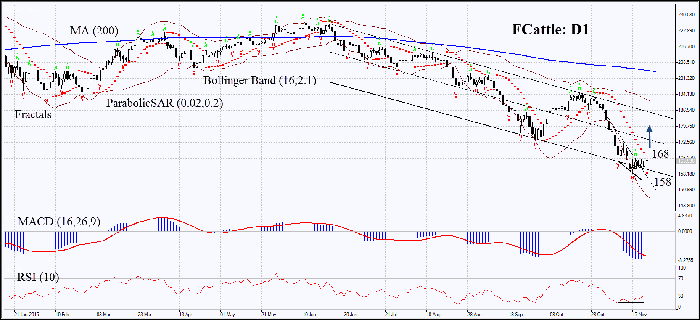 On the daily chart FCattle: D1 is consolidated near the support of the downward channel. The MACD indicator continues giving sell signal while Parabolic has formed a signal to buy. The Bollinger bands have widened significantly which may mean high volatility. RSI has formed small positive divergence. The bullish momentum may develop in case the beef surpasses the upper parabolic signal at 168. The level may serve the point of entry. The initial risk-limit may be placed below the lower Parabolic signal, last fractal and the 2-year low at 158. Having opened the pending order we shall move the stop to the next fractal low following the Parabolic and Bollinger signals. Thus, we are changing the probable profit/loss ratio to the breakeven point. The most risk-averse traders may switch to the 4-hour chart after the trade and place there a stop-loss moving it in the direction of the trade. If the price meets the stop-loss level at 158 without reaching the order at 168, we recommend cancelling the position: the market sustains internal changes which were not taken into account.
| | |
| --- | --- |
| Position | Buy |
| Buy stop | above 168 |
| Stop loss | below 158 |