Weather forecasts pushed gas prices up
On Monday natural gas prices edged up by almost 10% in the US on the weather forecasts that the first week of 2016 may be colder than usually. Last week gas prices have hit the low since March 1999. Will the uptrend correction of natural gas continue?
The US natural gas has lost almost 30% in price since this November partly due to the weaker demand amid abnormally warm weather. The demand for gas for heating fell by 20% in December compared to the last year's level and by 30% compared to the average consumption in 30 years. Meanwhile, the US gas production contracted by the scarce 2% from 2014. Nevertheless, the US companies have increased twofold gas exports to Mexico so there is no critical glut. Market participants assume the gas may fall into deficit in case of the cold snap. The number of gas rigs fell 17 to 168 which is the lowest in 28 years, according to Baker Hughes. Power generating companies took advantage of the slumping prices. Given cheaper gas, the reduced the coil purchases and increased gas production to produce electricity by 34% compared to the 30-year average. The net volume of shorts in gas at NYMEX and ICE fell to the lowest since this September, as reported by U.S. Commodity Futures Trading Commission. Due to the season factor the US WTI oil prices may follow the steps of the gas and move upwards which, in its turn, may support the Russian ruble.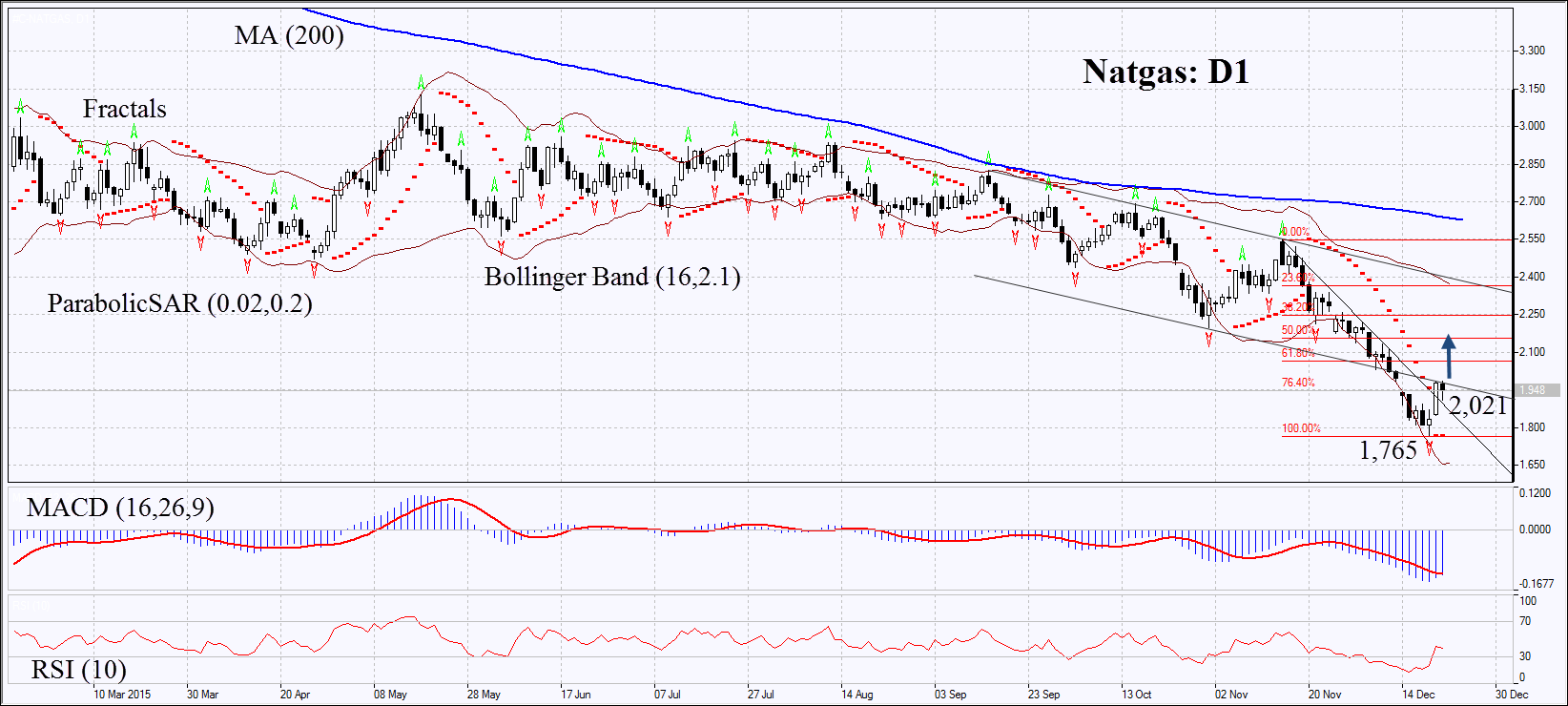 On the daily chart Natgas: D1 is slightly on the rise having rebounded from its 16-year low. The Parabolic indicator gives buy signal while MACD still signals to sell. The Bollinger bands have widened severely which may mean higher volatility. RSI has left the oversold zone and is neutral, no divergence. On Tuesday the gas quotes have reached the gap but failed to close it and fell slightly. The bullish momentum may develop in case the gas rises in price to close the entire gap at 2.021. This level may serve the point of entry. The initial risk-limit may be placed below the 16-year low, the Parabolic signal and the last fractal low at 1.765. Having opened the pending order we shall move the stop to the next fractal low following the Parabolic signal and Bollinger signals. Thus, we are changing the probable profit/loss ratio to the breakeven point. The most risk-averse traders may switch to the 4-hour chart after the trade and place there a stop-loss moving it in the direction of the trade. If the price meets the stop-loss level at 1.765 without reaching the order at 2.021, we recommend cancelling the position: the market sustains internal changes which were not taken into account.
| | |
| --- | --- |
| Position | Buy |
| Buy stop | above 2,021 |
| Stop loss | below 1,765 |