Awaiting USDA report on Thursday
Lately, rice prices have been under pressure. The Thai officials are planning to sell 11mln tonnes of rice from the state reserves which is to be discussed on February 29. Thailand released 9.8mln tonnes of rice in global markets in 2015 which is 10.9% below the 11mln tonnes in 2014. Another negative factor is plans of Indonesia to enhance its rice output and to renounce rice imports. The positive is the increased demand on rice from Iran, Syria and other Middle-East states, as well as from Philippines and Nigeria. The major world producers are India, Thailand and Vietnam whose crops may suffer from El Nino. In the its previous report USDA forecasted the global rice production will amount to 470.1mln tonnes in 2015/16. This is 2% below the level of the previous season. Meanwhile, the global rice consumption will surpass its production already for the 3rd straight season. This may cut the global rice reserves by 14% compared to the previous year to 89.7mln tonnes. USDA expected the volume of global rice trading to total 42.1mln tonnes which is 2% below the last year's level. The rice crops in the US are at 192.3mln hundred weights (cwt), according to the previous report. In our opinion, the rice prices may depend on the USDA forecasts highlighted in its new report on February 11.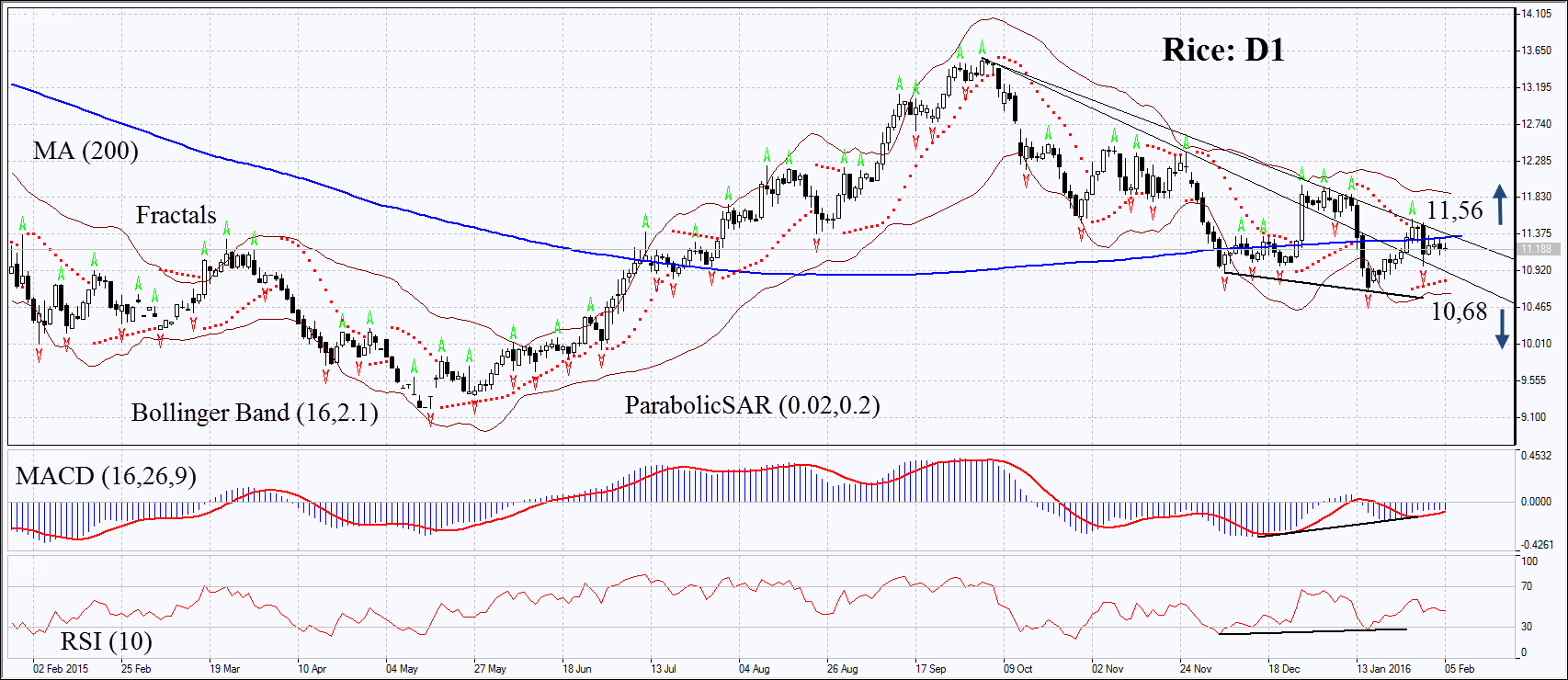 On the daily chart Rice:D1 is in downtrend and has verged its resistance. The Parabolic indicator and MACD give buy signals. RSI is neutral and below 50 but has formed the positive divergence. The Bollinger bands are slightly contracting which may mean lower volatility. The bullish momentum may develop when the price surpasses the last fractal high and the 200-day moving average at 11.56, or in case of the fall below the second fractal low, Parabolic signal and Bollinger band at 10.68. The market will choose the direction itself. Two or more positions may be placed symmetrically: having opened one of the orders, the second may be deleted as the market has chosen the direction. Having opened the pending order we shall move the stop to the next fractal high (short position) or fractal low (long position) following the Parabolic signal every 4 hours. The most risk-averse traders may switch to the 4-hour chart after the trade and place there a stop-loss moving it in the direction of the trade. Thus, we are changing the probable profit/loss ratio to the breakeven point. If the price meets the stop-loss level without reaching the order, we recommend cancelling the position: the market sustains internal changes which were not taken into account.
| | |
| --- | --- |
| Position | Sell |
| Sell stop | below 10,68 |
| Stop loss | above 11,56 |
| | |
| --- | --- |
| Position | Buy |
| Buy stop | above 11,56 |
| Stop loss | below 10,68 |