Drag on carmaker's earnings
Volkswagen was sued by US Justice Department on Monday for allegedly installing illegal emissions defeat devices in certain diesel vehicles sold in US. The carmaker hopes it will come to an agreement with US regulators on how it will fix the affected cars. How far will fall the stock of the world's major carmaker?
Last September Volkswagen was accused of installing emission test-cheating software in certain diesel models in US. US Justice Department filed a lawsuit for up to $48 billion against the German car maker on Monday, alleging it installed the illegal devices in nearly 600,000 vehicles. Volkswagen assumes it will have to buy back about 115,000 cars in the United States as a result of the emissions scandal. The car maker expects that the rest of the vehicles will need major refits, which will amount to significant costs. World's largest car-maker by sales boasts of $138.74 billion of enterprise value and $56.75 billion of market capitalization. Nevertheless a possible hefty fine and significant expenses in order to bring nearly 500,000 diesel vehicles into compliance with US emissions laws will have a negative effect on company's stocks. The company plans also to repair by the end of 2016 about 8.5 million diesel cars sold in Europe.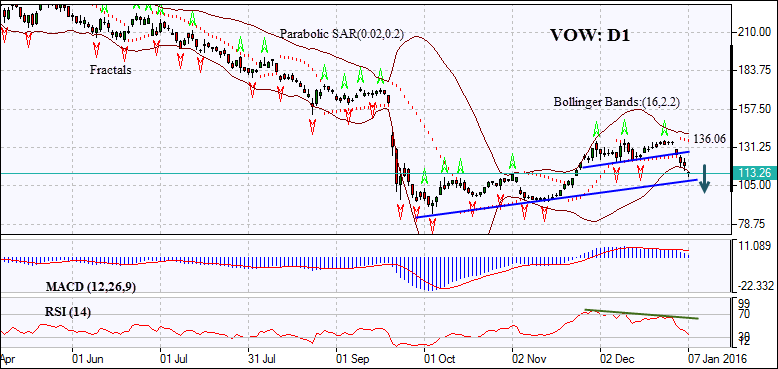 VOW: D1 had been recovering after a 40% slump in second half of September as the scandal about emission tests broke out. It has been falling since Monday on the daily chart when it closed down about 4% after the US Justice Department filed the lawsuit. The stock has fallen below the support line of the "head and shoulders" chart pattern and last two fractal lows. The Bollinger bands have contracted which may mean lower volatility. The Parabolic indicator and MACD give a sell signal. The RSI oscillator has formed a negative divergence and has not reached the oversold zone yet. We can go short right away. The stop loss can be placed at the fractal high and Parabolic signal at 136.06. After placing the order, the stop loss is to be moved every day to the next fractal high, following Parabolic and Bollinger signals. Thus, we are changing the probable profit/loss ratio to the breakeven point. If the price meets the stop loss level without reaching the order, we recommend cancelling the position: the market sustains internal changes which were not taken into account.
| | |
| --- | --- |
| Position | Sell |
| Sell limit | below 113.26 |
| Stop loss | above 136.06 |