Grain futures prices have reached the lower boundary of the upward channel and are struggling for growth on the relatively insignificant positive news. The full reversal upwards is possible only subject to really poor weather and El Nino effects. The probability rises if winter turns out to be extremely warm. Will the prices continue to increase?
The corn edged up after the U.S. Energy Information Administration reported the record weekly production volumes of ethanol in the US. The weekly increase was 3.4% with the volumes reaching 1mln barrels a day which requires 100mln bushels of corn. Egypt tendered the purchase of 240 thousand tonnes of wheat. The soy is rebounding from the multiyear low. The oats are on increase too. Let's consider the personal composite instrument &Grain_4.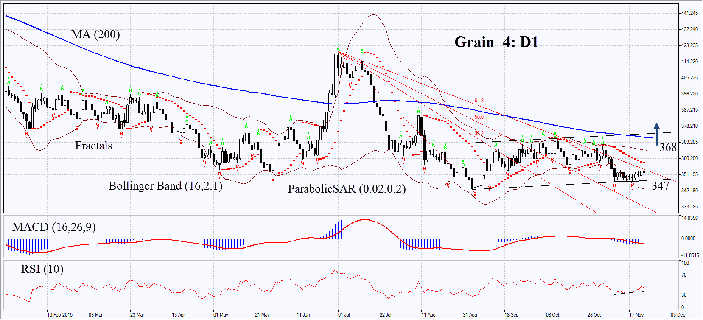 On the daily chart, the PCI instrument &Grain_4: D1 is consolidating near the lower boundary of the uptrend. The Parabolic indicator continues giving sell signal while MACD has formed a signal to buy. The Bollinger bands have widened a lot which may mean higher volatility. The RSI has formed small positive divergence. The bullish momentum may develop if the PCI surpasses the upper Parabolic signal, the Bollinger Band and the last fractal high at 368. This level may serve the point of entry. The initial risk-limit may be placed below the two last fractal lows at 347. Having opened the pending order we shall move the stop to the next fractal low following the Parabolic and Bollinger signals. Thus, we are changing the probable profit/loss ratio to the breakeven point. The most risk-averse traders may switch to the 4-hour chart after the trade and place there a stop-loss moving it in the direction of the trade. If the price meets the stop-loss level at 347 without reaching the order at 368, we recommend cancelling the position: the market sustains internal changes which were not taken into account.