Politics drives gold up
Gold prices advanced on increased global risks after North Korea tested successfully its thermo-nuclear bomb. Previously gold edged up on the flare-up between Iran and Saudi Arabia. Will the gold continue rising in price?
The fundamental background is not obvious yet. The US Fed is set to go on with hiking interest rates which makes the US assets more appealing compared to gold. On Friday the important US labour market data for December will come out that will affect the markets. The upfront employment data from ADP was released on Wednesday and had a positive impact on the US currency. As it is, the gold share in hedge funds assets is being modest. The amount of gold in the world major gold ETF SPDR Gold Trust fell to the lowest in 7 years. Thus, the number of shorts on COMEX is close to the record highs. Amid this the gold began to edge up on political news. Some investors may be constrained to close the shorts which may push the gold quotes further up.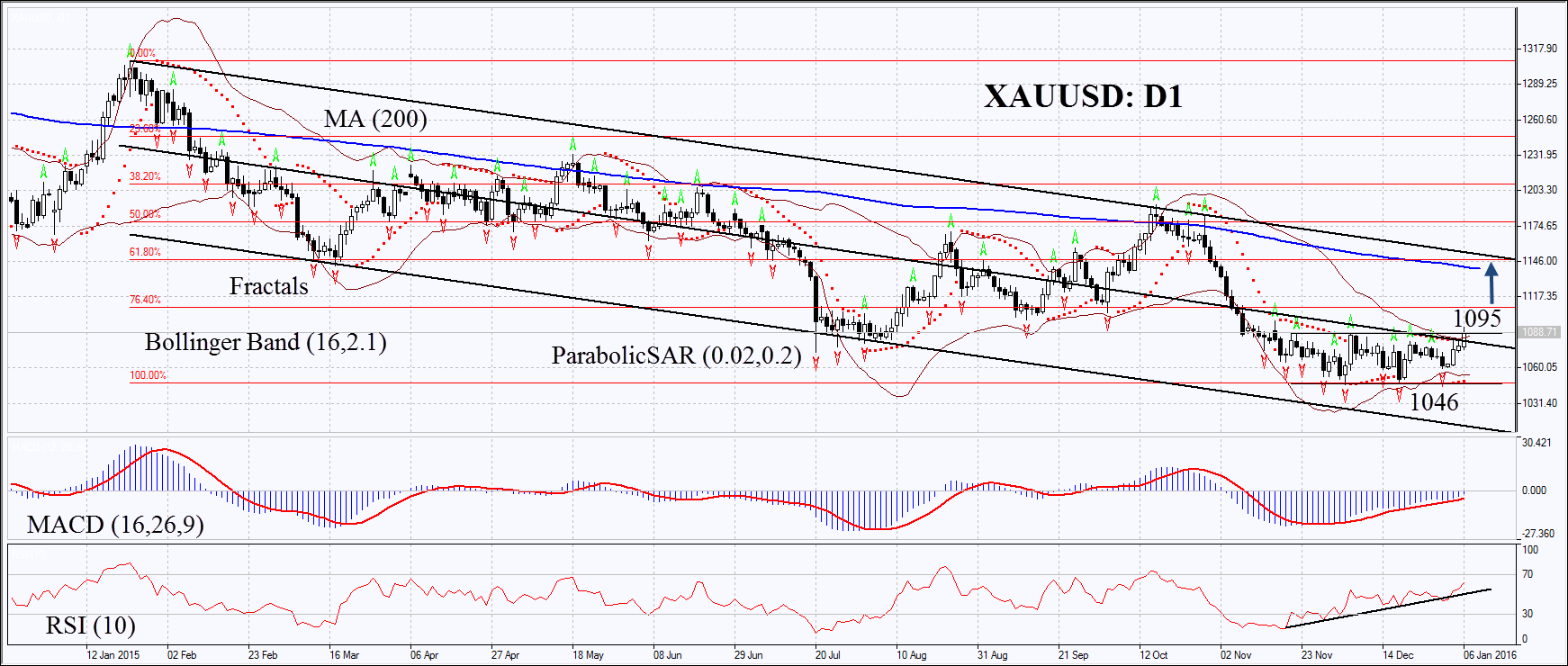 On the daily chart XAUUSD: D1 is in downtrend having lost about 10% last year. In the last two months the prices were moving sideways. So, the upward breakout may mean the uptrend. The Parabolic indicator and MACD give buy signals. The Bollinger bands have contracted a lot which ,ay mean low volatility. RSI has formed positive divergence but has not yet reached the overbought zone. The bullish momentum may develop in case the gold surpasses the resistance of the neutral range, 6 fractal highs, the Bollinger band and the Parabolic signal at 1095. This level may serve the point of entry. The initial risk-limit may be placed below the support of the neutral range, four fractal lows, the 5-year low, lower Bollinger band and the Parabolic signal at 1046. Having opened the pending order we shall move the stop to the next fractal low following the Parabolic and Bollinger signals. Thus, we are changing the probable profit/loss ratio to the breakeven point. The most risk-averse traders may switch to the 4-hour chart after the trade and place there a stop-loss moving it in the direction of the trade. If the price meets the stop-loss level at 1046 without reaching the order at 1095, we recommend cancelling the position: the market sustains internal changes which were not taken into account.
| | |
| --- | --- |
| Position | Buy |
| Buy stop | above 1095 |
| Stop loss | below 1046 |