American indices advanced on Wednesday as S&P 500 hit a new historical high. Meanwhile, the dollar weakened against other currencies. Some macroeconomic indicators turned out to be worse-than-expected, so investors assumed that rate hike was unlikely in the short term. In particular, Existing Home Sales contracted 3.3%. The average house price increased 8.9% as compared to April, 2014. The number of unsold existing houses jumped 10% to 2.21mln. Philadelphia Fed Index didn't meet expectations. American stocks trade volume was 11% below the monthly average, totaling 5.6bln shares. Fed president Janet Yellen will speak at 19:00 CET. This is considered to be a milestone event for today: investors hope that she will touch on the topic of this year rate hike. We remind that last time the rate was raised in 2006. At 14:00 CET April CPI will be released in the US; the tentative outlook is negative for the dollar.
Today European indices have sluggishly been traded close to three-week highs ahead of European central banks presidents' meeting in Portugal. ECB and Bank of England chairs will take part in it as well. European investors are looking forward to financial news from the US. The euro have been climbing together with ATG index due to a Greek official, claiming that the country would reach an agreement with creditors in 10 days and make all the necessary payments in June. Germany has published neutral economic statistics this morning. No important data are expected today in the EU. On Monday stocks in the USA, Germany and Great Britain will have a day off due to Memorial Day, Pentecost and bank holidays. To note, European stocks trade volume was low with Stoxx 600 turnover being 30% below the monthly average.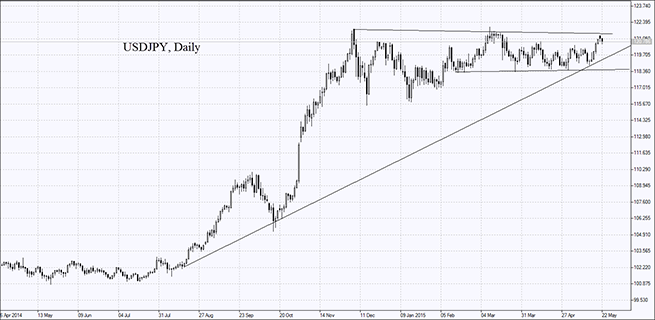 Nikkei has been rising for 6 straight days — the longest winning streak since December. The index has been traded close to the maximum since December, 1989. The growth is boosted by Bank of Japan, which decided today to keep money emission at the current level (80 trn yen). It is worth mentioning that good Q1 GDP data were issued on Wednesday. Investors praise governmental economic policy, known as "Abenomics". Today Bank of Japan stated the program would continue and expressed confidence that inflation will reach the 2% goal in 6 months. The yen weakened because market participants expected the policy would remain unchanged. Yet, the Japanese currency strengthened on positive GDP report. Altogether, the yen have been traded in a range for 6 months, which may result in a quick and sharp momentum.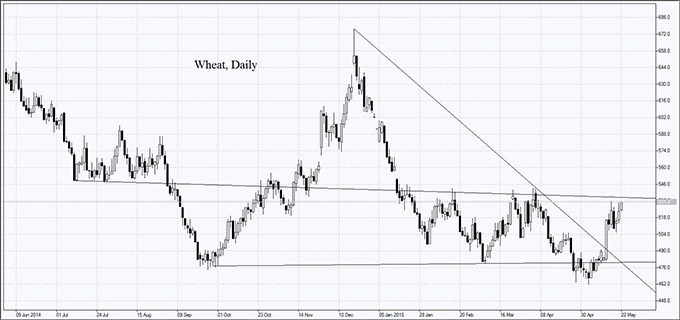 Wheat and corn futures rose due to bad weather forecasts in the US. Soybean prices have been traded lower after Agroconsult agency (Brazil) raised crops forecast to record-high 96.1mln tons.