Global stocks retreated yesterday due to the rising Greek default risks ahead of the referendum and weak labor market and manufacturing orders data. International Monetary Fund said Greece should ramp up €50 to support the economy in 3 years. Non-Farm Payrolls advanced in June by 223 thousand. This is a good result but the growth appeared to be less-than-expected. Unemployment dropped to 5.3% from 5.5% in May. Investors generally evaluate the current economic stance as stable. That is why the probability of Fed rate hike is likely to be 50%, which restrains the American dollar. Worse-than-expected factory orders (they fell 1% in May) produced additional negative effect on indices. Yesterday the American stocks trade volume was 28% below the monthly average, making 5.5bln shares. Today American venues have a day off due to Independence Day.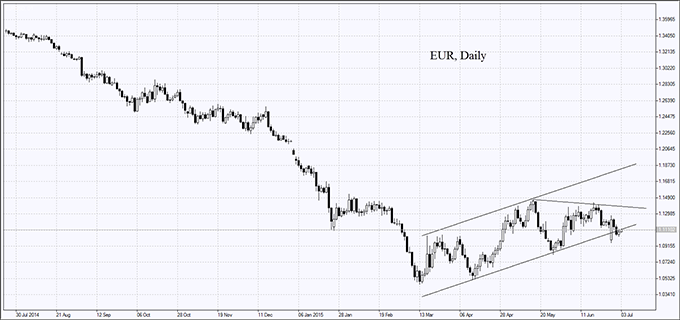 European stocks have been declining for 2 consequent days ahead of the Sunday Greek referendum. Since last Friday Stoxx 600 has already lost 4.2% and may fall to its lowest since the beginning of the year. Fiat Chrysler Automobiles shares slumped 1% on concerns about safety defects. The euro is traded about 5% above this year low ahead of the referendum. Most market participants are likely to expect the Greek default. Eurozone Retail Sales in May will be published today at 11:00 CET: the tentative outlook is neutral.
Nikkei dropped yesterday together with global indices. Today it has been showing a moderate growth, driven by bank sector shares: the second largest bank in the country Sumitomo Mitsui Financial Group pledged to reduce its shares in other companies (cross-shareholdings). The bank shares rose 3.4%. Mizuho Financial Group gained 2.3%, while Mitsubishi UFJ Financial Group added 1.2%. At 07:00 CET on Monday Leading Economic Index for May will be released in Japan.
We would like to draw your attention to Shanghai Composite Index, which plunged 30% during last three weeks – the steepest fall since 1992. this confirms the fact that a full-scale pullback has been developing in the Chinese market. The country government stated that it was going to start an investigation concerning probable quotes manipulation. The news had a negative impact on several commodity futures. Investors assume that the inspection may involve commodity market participants.
Global oil prices dropped. The number of operating rigs in the US increased by 12 to 640. It has happened for the first time since December, 2014. Investors expect that by the end of the year this number will grow by at least 100. We would like to remind yo that the all-time high for oil rigs was 1609 in October, 2014. Despite considerable contraction, the daily production has not decreased much since 1970, swinging around 9.6mln barrels.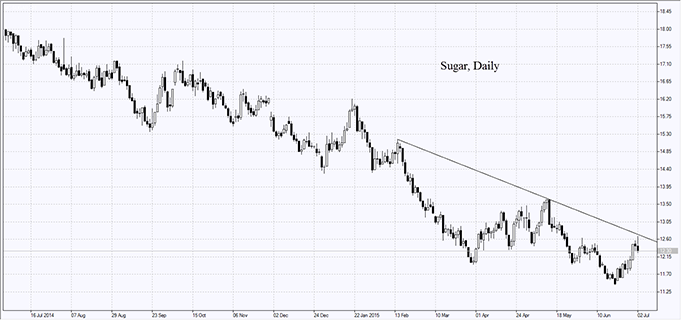 Ukrainian Department of Agriculture forecasts the sugar crops will drop this year 28.5% to 1.5 mln tons, as compared to 2.1mln tons last year. The country consumes 1.7mln tons of sugar every year. The current consumption level will be assured by means of 560 thousand ton reserves. Thus, Ukraine may give up on sugar export.