Global markets fell on Thursday as Shanghai Composite tumbled 6.5%, hitting the record daily low since 2008, the year of the last economic crisis. However, negative reports were not published in China. A drop in prices of Chinese stocks can be meanwhile regarded as a pullback in the overheated market. Even today Shanghai Composite index is 43% higher than it was at the beginning of this year. The yesterday's trading volume on US exchanges made up 5.7 billion shares, 9% below the monthly average. The macroeconomic reports appeared to be positive. Despite the rise in US Unemployment Claims, the indicator has still remained at the lowest level since 2000. Pending Home Sales rose more-than-expected, surging till the highest level over 9 years. Positive statistics pressed the US dollar and, according to market participants, the data might put the Fed rate hike off. Today at 14-30 СЕТ the second estimate of Q1 GDP will be released in the US. The tentative outlook is quite negative. At 16-00 СЕТ Michigan's revised Consumer Sentiment in May will be published.
European stocks are moving lower today, for the second straight day. Except for Chinese news, there are a few more negative factors which suppress the quotes from rising. Greece is in need of further negotiations with its creditors to get new loans in exchange for reforms, according to IMF officials. Meanwhile, the Greek government has previously stated about the country's intentions to make a deal with creditors by the end of this week. The euro strengthened a bit against the dollar on today's weak US GDP data and relatively strong economic, consumer and business confidence indexes published in euro zone yesterday. The negative UK Q1 GDP was released yesterday and resulted in pound plunging. The today's German Retail Sales data in April is neutral. Today no more important economic data is expected in euro zone.
Nikkei has rebounded today for the second consecutive day in tandem with other world stock indices. Yesterday and today a large block of economic data has been published in Japan. We believe them to be moderately positive. Over the week Nikkei rose 1.5% and advanced 5.3% over May. Yen stopped slipping after the Japanese minister of finance said the yen weakening was too fast and abrupt. Note that some investors stated that the Japanese stock market looks "overheated" as Nikkei hit 15-year high and can drastically pull back following the example of the Chinese stock market.
Monday at 3-00 СЕТ China will post Manufacturing PMI in May. The preliminary outlook is slightly optimistic. If the actual data doesn't coincide with the outlook, commodity prices might edge lower since Chinese authorities have repeatedly cut the rates in order to support the national economy. Investors expect that it will work.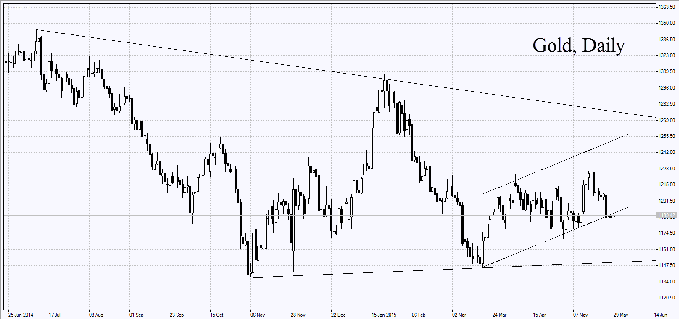 Gold and copper prices suspended the drop as the US dollar weakened. These assets' prices are moving in opposite directions, especially gold.